Isabelle's Blog
Cancer, Intimacy and Sexuality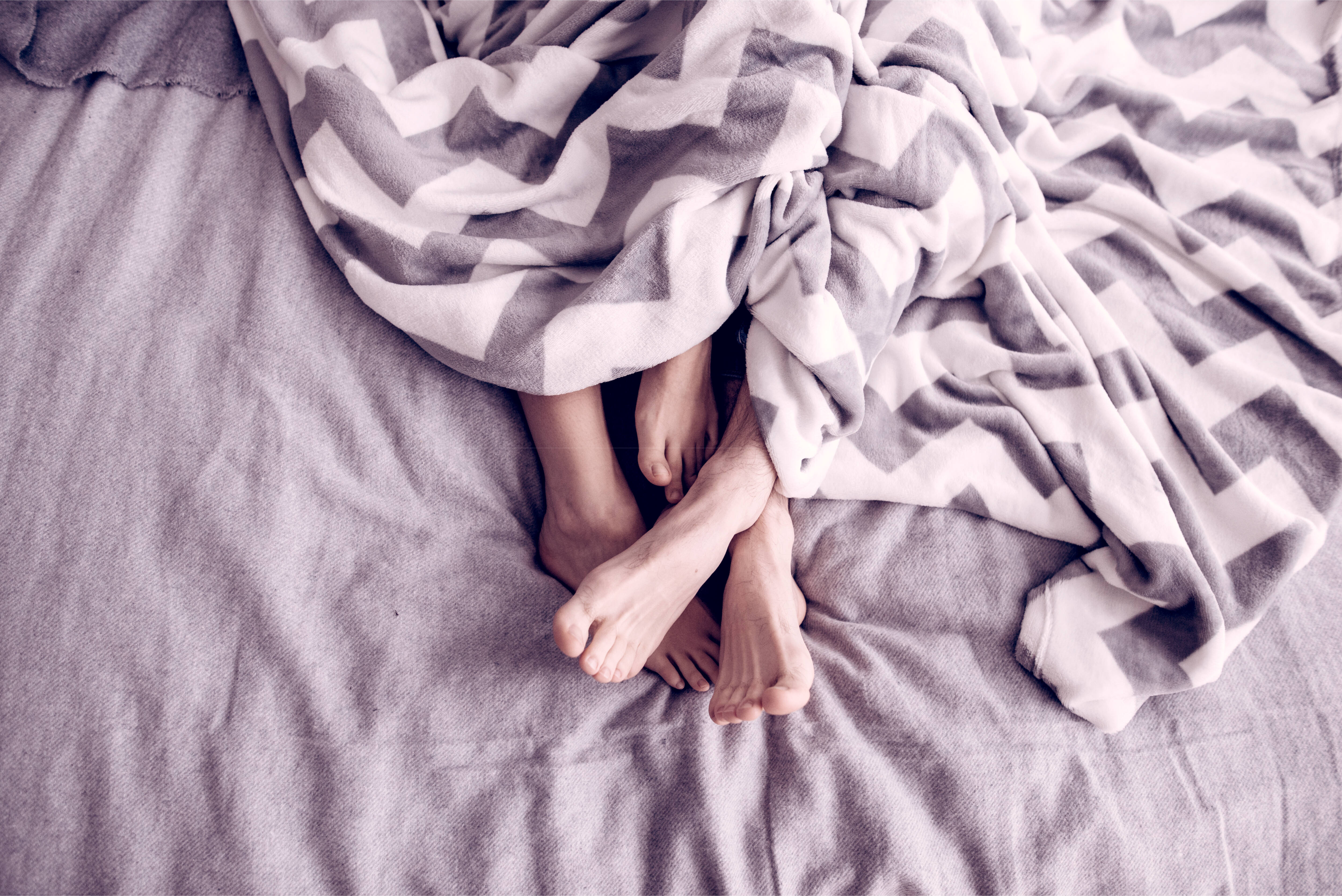 Intimacy and sexuality during cancer, especially breast cancer, is still a taboo, a subject too often relegated to the background. Intimacy is essential to a patient's well-being and quality of life.
But, how can you love and be loved when treatments interfere with libido and self-esteem?
The Effects of Cancer on Intimate Life
The effects on the body
Cancer and cancer treatments cause major changes in the body, some temporary, some permanent.
Surgery, beyond pain and fatigue, is often the symbol of a mutilation with many consequences. Loss of volume, loss of a breast, unsightly scars, and surgery including reconstructive surgery leads to irreversible body changes that affect femininity and intimate life.
Chemotherapy has many more or less visible side effects: hair loss, sensitive skin, nausea…and disrupts the functioning of the ovaries. The menstrual cycle is often interrupted, symptoms of induced menopause appear: hot flashes, vaginal dryness, mycoses. Other mucous membranes of the body can also be affected, such as the oral cavity, causing mucositis.
Radiotherapy can affect the body by the presence of skin disorders and burns in the irradiated area. When used in the pelvic area, it can lead to menopause and/or partial or permanent sterility.
Hormone therapy disrupts the hormonal balance and precipitates menopausal symptoms: loss of vaginal lubrication, loss of flexibility and increased vulnerability of the vaginal mucosa, genitourinary syndrome.
Effects on the mind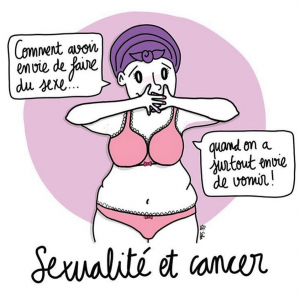 Cancer also has an impact on psychological well-being.
The diagnosis of the disease makes us brutally aware of our vulnerability, of our mortality. Anxiety, stress, and fear of dying take an important place and often make us psychically unavailable for the rest.
In a society where appearance is important, the physical changes linked to treatments and/or surgeries appear to us as a physical injury, but also narcissistic. Self-esteem and femininity are put to the test.
Confronting one's own image in the mirror and in the eyes of the other is particularly difficult. During the period of the treatments, my bathroom had become a place of moral and physical suffering, I felt like a different woman, almost a stranger in my own body.
The alteration of the self-image has repercussions in our relational, intimate and sexual life. How can we accept this body that we no longer recognize? How can we consider it as an object of desire?
The lumpectomy was a physical and moral test for me. Even though the surgeon had done a beautiful job, it was clear that no intimate relationship was possible, I was mutilated and I was in pain.
How to maintain an intimate life in spite of illness
Relieve vaginal and vulvar dryness…

Vaginal dryness is a common problem for women with cancer. Some chemotherapies and anti-oestrogenic treatments will act directly on the vaginal mucosa; others will act indirectly by depriving it of the action of estrogen. The vaginal tissue becomes thinner and no longer produces sufficient natural lubrication, resulting in dryness, bleeding and pain.
The choice of an adapted and specific treatment is essential. Conventional shower gels that are too alkaline and/or contain soap are too aggressive for your fragile skin.
Linda Berkani, R&D Director
"Our laboratory has selected for you tailor-made ingredients to offer you a suitable intimate hygiene care  that gently washes, soothes and limits the sensation of dryness.
It combines gentle cleansing agents and delicate fragrance. The lactic acid contained in our care maintains a low PH of the intimate area (below 5.5) and promotes the growth of protective lactobacilli. These film-forming ingredients mimic the hydrolipidic film, thus providing an immediate and long-lasting sensation of comfort".
–Use vaginal moisturizers rich in hyaluronic acid
Naturally present in the vaginal epithelium, hyaluronic acid has the property of retaining water molecules and thus helps to rehydrate the vaginal mucosa. It also preserves the tissues from drying out and re-inflates the mucous membranes. For a good effectiveness, it is necessary to renew the treatment regularly, two to three times a week.
–Hyaluronic acid infiltrations in the vaginal wall
Derived from the techniques used in aesthetic medicine to fill expression lines, these infiltrations, performed in the clinic, regenerate and rehydrate the mucous membrane for about 8 months. It is an effective method, but is not covered by health insurance. It is necessary to anticipate approximately 400 euros for a session.
–The fractional CO2 laser
Fractional lasers have been used for several years by dermatologists to reshape scars and fine lines, restoring suppleness and moisture to the treated skin, so the idea naturally arose to use them to restore the trophicity of the vagina.
Introduced into the vagina as far as the cervix, the laser causes a painless micro-abrasion, forcing the mucous membrane to rebuild elastic fibres, collagen fibres, hyaluronic acid and blood micro vessels. A real revolution in the treatment of vaginal atrophy and its many consequences on the urogenital sphere.
This technique is not very widespread in France and is extremely expensive.
Communicating, reinventing, loving each other
Sexuality: talking about it
Sexuality in the context of cancer is often addressed in a secondary, and/or superficial way, yet it is important to talk about it.
Communication within the couple is essential. It is necessary to talk with your partner, to express your feelings, your concerns, your fears, your difficulties, your questions, your needs…
By being aware of your concerns, your partner will be better able to reassure you.
Even if the subject of sexuality in oncology is still taboo, professionals and associations (link Rose'Up petition) are starting to talk more about it.
The first sexology consultation specifically dedicated to people suffering from cancer was set up in 2014 at Le Mans University Hospital. Others have been created since then. Do not hesitate to make an appointment with these professionals to talk about your fears and/or difficulties.
Love and sexuality have an important role to play in cancer care. Love and sexuality have a role to play in the management of cancer. They allow you to "reconcile with your body, to become aware that it can be a source of pleasure and not only of violence". (Catherine Adler-onco-sexologist)
I remember crying tears of happiness when I had my first intimate relationship after surgery. For the first time after several weeks, my body was giving me something other than pain. Gestures of tenderness and intimacy are important to counteract the deleterious effects of cancer. It is a source of excitement, a source of life!
Recovering self-esteem
A woman affected by cancer, even after her treatments are complete, carries scars with her and within her, some of which are invisible and indelible.
If she is able to stand upright, she is still weakened by an ordeal that marks a before and an after. She has mourned her health and part of her femininity.
Regaining her femininity, feeling at ease with her body again, re-appreciating her image, can take time. Ozalys skin care products have been designed for you; to allow you to take care of your skin and mucous membranes and to bring you softness and comfort in complete safety.
The socio-aestheticians and beauticians can also help you regain your self-confidence; learn to take care of yourself again, to be touched, to reconnect with your body.
That is why Ozalys offers a card of six specific beauty treatments.
Without machines, with the softness of their hands as their only instrument, the practitioners will provide you with well-being and comfort. They stimulate your skin and its many receptors thanks to the combined action of massage and the high quality active ingredients of Ozalys products.
In conclusion
In the majority of cases, breast cancer is no longer a fatal disease. After cancer, it is not just about surviving, but about living well. The solutions proposed to preserve women's intimacy are both ineffective and non-reimbursed.
The solutions classically used during menopause (Oral or Local Hormone Replacement Therapy) are banned in the case of hormone-dependent cancers, women find themselves at a dead end. However, there are new strategies, such as vulvovaginal regeneration and hyaluronic acid, but these methods are not widespread and are not reimbursed by health insurance.
At the Senate hearing of the Cancer Study Group in June 2019, I advocated that these expensive techniques should no longer be reserved for the wealthy with the financial means and access to information, but should be made universally available and reimbursed by the Social Security.
I hope with all my heart that my voice will open the way for all women reduced to silence, guilt and the suffering of no longer feeling like a woman.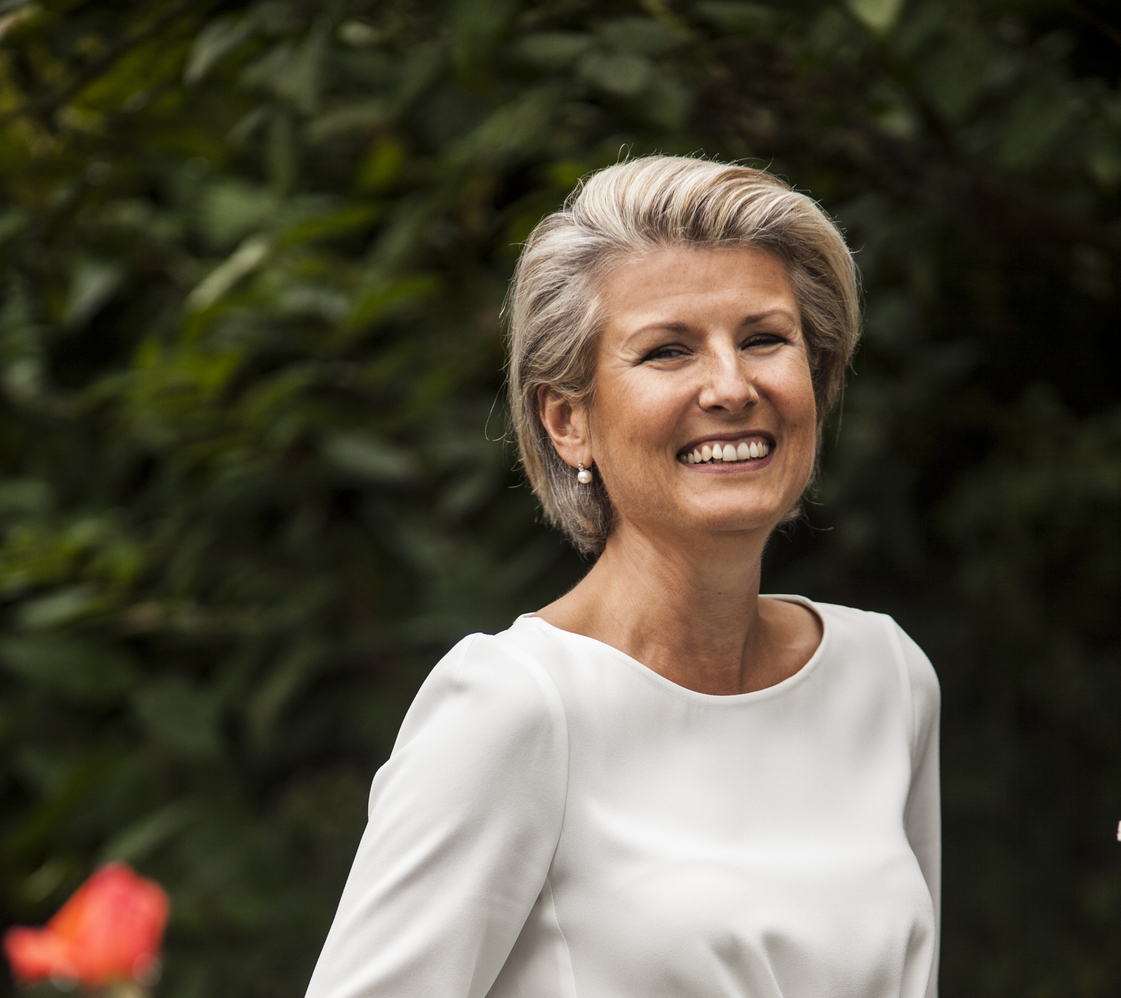 Isabelle Guyomarch
Isabelle Guyomarch a passionate and seasoned professional in the pharmaceutical and cosmetic worlds when she was diagnosed with breast cancer in 2013. In 2017, she created Ozalys, a brand of Dermo-cosmetics created by women for women affected by cancer.