Isabelle's Blog
OCTOBRE ROSE….IT'S 12 MONTHS OUT OF 12!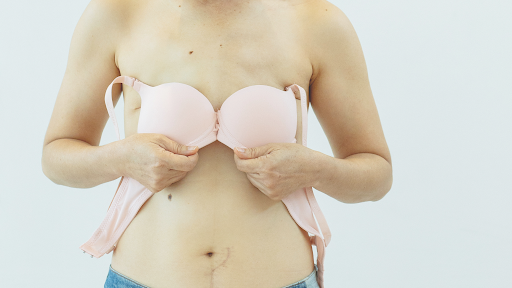 Too small, too big, not enough this, not enough that… What if we looked at our breasts differently, if we learned to know them better and love them? 
Because each year, breast cancer affects nearly 2 million women worldwide and causes more than 600,000 deaths, this month of October, dedicated to awareness and prevention is essential to fight against fears and taboos. Because if diagnosed early enough, it can be cured in 9 cases out of 10, it remains a real ordeal. Physical and psychological after-effects, as well as treatments to prevent recurrence, still have a major impact on women's quality of life. 
Our breasts are a source of life, a symbol of seduction, of freedom but also sometimes of death. Because almost as many breast cancers are discovered following organized screening as following a woman's decision to consult when faced with̀ warning signs, let's take care of them, let's observe them differently and let's be actors in our health!
AWARENESS, A KEY ISSUE IN THE FIGHT AGAINST BREAST CANCER
Reducing risk factors
While there is no miracle solution to avoid breast cancer, having a healthy lifestyle can lower your individual risk of developing it one day. There are many causes: genetic predisposition, the environment in which we live, but also the behaviors we adopt on a daily basis and that we can modify.
Palpation and self-palpation, gestures that can save lives!
In France, breast palpation is a technique traditionally practiced in gynecological consultations, but the promotion of breast self-palpation is not uniform; few women are taught how to reproduce these movements.
According to the WHO, "There is no evidence of the effect of screening through breast self-examination (BSE). However, it has been found that the practice of breast self-examination, or palpation, empowers women to take responsibility for their own health. Therefore, self-examination is recommended as a means of educating women at risk rather than as a screening method."
In Scandinavian countries, young women are educated from puberty onwards to perform self-examination of their breasts, everyday movements that allow women to become active in their own health, which would explain in part the much higher rate of early breast cancer screening in these Nordic countries.
Breast self-examination is a set of simple movements that, when practiced every month, after menstruation (before menstruation, the breasts are often more painful and more difficult to examine), allow women to get to know their breasts well and to detect any abnormality.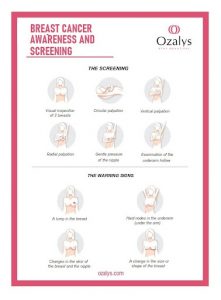 Here are the 3 moves you should adopt to perform a successful self-examination:
Move 1: With the three fingers of your left hand, feel your right breast. Starting at the outside of your breast, make small circles with your fingertips all the way to the inside.
Move 2: Check under your arm for any lumps or abnormal hard areas under the skin.
Move 3: Gently squeeze your nipple and check for discharge.
Repeat these 3 gestures on your left breast with your right hand.
Warning signs of breast cancer
-A lump or mass in a breast is the most common sign. The lump is usually not painful, but is usually hard and irregular in shape. It also appears to be "fixed" in the breast.
But other possible signs of cancer should also alert you:
-Hard nodes in the underarm (under the arm)
One or more hard lumps in the underarm can mean that breast cancer has spread to the axillary nodes. However, the nodes remain painless.
-Changes in the skin of the breast and nipple
A change in the skin: shrinkage, redness, swelling or an orange peel appearance.  A change in the nipple or areola: retraction, change in color, oozing or discharge.
-A change in the size or shape of the breast
Redness, swelling and warmth in the breast may be signs of inflammatory breast cancer.
BREAST CANCER SCREENING
The screening campaign in France
Organized breast cancer screening was generalized in France in 2004. Its twofold objective is to reduce mortality from breast cancer and to improve information and the quality of care for those concerned. In particular, it guarantees each woman equal access to screening throughout the country and a high level of quality.
The organized screening program targets women between the ages of 50 to 74 who are at average risk, i.e., with no apparent symptoms or particular risk factors. Every two years, the regional screening coordination centers (CRCDC) send a personalized invitation letter to women aged 50 to 74, based on files transmitted by the health insurance plans;
They are invited to visit an accredited radiologist. The examination includes a mammogram (two images per breast, front and oblique) and a clinical breast examination. It is covered at 100% by the health insurance, without advance payment.
Even if no abnormality is detected, the mammogram is then systematically reviewed by a second expert radiologist.
When an abnormality is detected, the first radiologist immediately performs a diagnostic workup to shorten the time required for possible treatment and avoid an agonizing wait for the patient.
And before the age of 50?
Since the last report of the INVS (2017), there has been an increase in the incidence of breast cancer in France, an increase that concerns all age groups, but if it is 1.2% per year in those under 40, it is 2% in those under 35.
10% of cancers affect women under 40 years of age, i.e. about 5000 women per year, including 500 cases in pregnant or breastfeeding women.
In these young women, diagnoses are often delayed. These tumors are often diagnosed at more advanced and aggressive stages (26% of triple-negative tumors and 43% of grade 3). 
Supporting, raising awareness and communicating about breast cancer in young women is the objective of the Jeune & Rose association.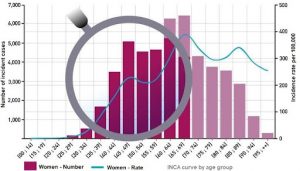 This is done through the "TéléTéton", an awareness campaign aimed at the general public, and Alerte Rose, a film/debate to raise awareness among health professionals about the problems faced by young patients.
Organized screening saves thousands of lives but is only for women over 50 years of age or for those with a level of risk considered to be high. 
For all other women, only a clinical examination (palpation) of the breasts can detect a possible abnormality.
The My Peps study: towards a more "personalized" breast cancer screening
Faced with the limitations of breast cancer screening as it is organized in many countries, improvements must be considered for better effectiveness, fewer negative effects and better adherence of women.
The international MyPeBS study, promoted by Unicancer and financed by the European "Horizon 2020" program, aims to evaluate the benefits of "personalized" organized screening, whose protocol is adapted to each woman's cancer risk level.
In the current strategy, all invited women are screened in the same way, but not all women are the same: each woman has her own risk of developing breast cancer, depending on many factors such as genetic factors, lifestyle or hormonal exposure.
The MyPeBS study will compare two groups of women: 
One group that will undergo the current standard breast cancer screening (Standard Group), and one group that will undergo a personalized risk-based screening strategy (Personalized Group), which will require saliva sample DNA testing and an additional visit compared to the Group. The purpose of this study is to answer a simple but fundamental question: is it better to personalize the type and frequency of breast cancer screening based on each woman's individual risk?
AFTER BREAST CANCER, PREVENTION TOO! 
Regular post-treatment follow-up and lifelong vigilance
The end of breast cancer treatment does not mean the end of medical consultations. Follow-up after breast cancer treatment is an important component of care. Your oncologist, surgeon and primary care physician often share this responsibility. International guidelines suggest a medical visit every 6 months for 5 years. Your doctor will adapt this schedule to your situation, particularly according to the criteria of severity and risk of recurrence. 
Signs that should lead to a consultation 
-The recent appearance of palpable or visible nodes in the neck, underarm or groin or changes in the treated breast and scar. 
-The discovery of a mass in either breast. 
-Edema of the arm. 
-General symptoms (general and unexplained fatigue, weight loss outside of any diet). 
-Bone symptoms (more or less precise, increasingly strong pain, especially at night) poorly relieved by pain medication. 
-Respiratory symptoms (recent shortness of breath, cough of irritation, pain in the chest, sputum with blood). 
-Digestive symptoms (loss of appetite, nausea or disgust for certain foods, itching). 
-Neurological symptoms (headaches, dizziness, vision problems, tingling, numbness or weakness in the arms, hands or legs).
Don't panic, these symptoms are not always a sign of a cancer recurrence and may simply be related to another benign disease. 
TO CONCLUDE
Prevention is essential at all ages and at all stages of a woman's life. From those times when they feel "indestructible" to the difficult time after cancer when they would like to "forget".
Self-observation and self-palpation are additional keys in the fight against breast cancer, especially for women under 50.
Designed for women affected by cancer, Ozalys accompanies women in the prevention of breast cancer and its recurrence 12 months a year.
Because Ozalys' DNA is based on safety, our formulation charter bans ingredients that interact with the endocrine system and tracks down phthalates, plasticizers, and heavy metals right down to the packaging, to bring you comfort and reassurance in complete serenity.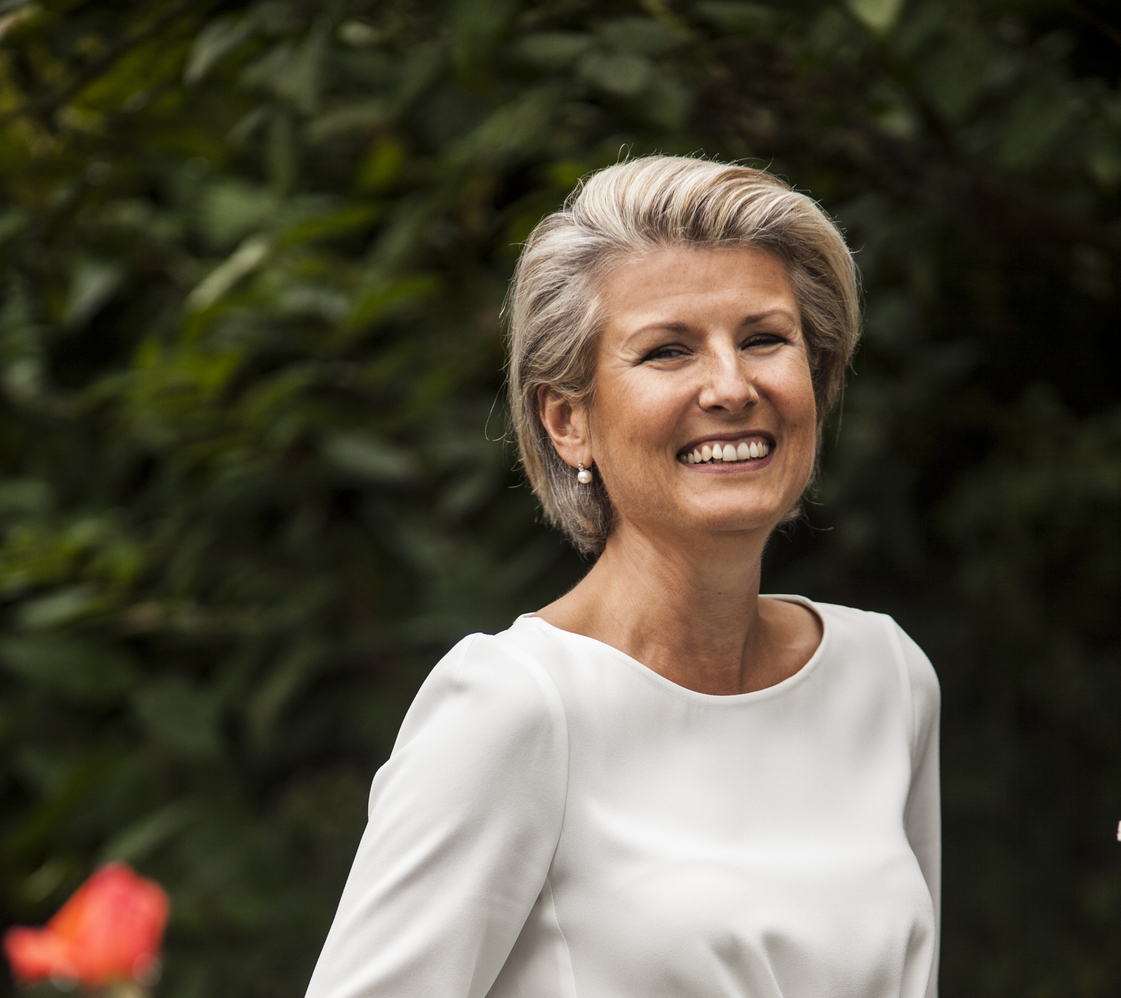 Isabelle Guyomarch
Isabelle Guyomarch a passionate and seasoned professional in the pharmaceutical and cosmetic worlds when she was diagnosed with breast cancer in 2013. In 2017, she created Ozalys, a brand of Dermo-cosmetics created by women for women affected by cancer.