Isabelle's Blog
Ozalys : From a woman's story to a committed global brand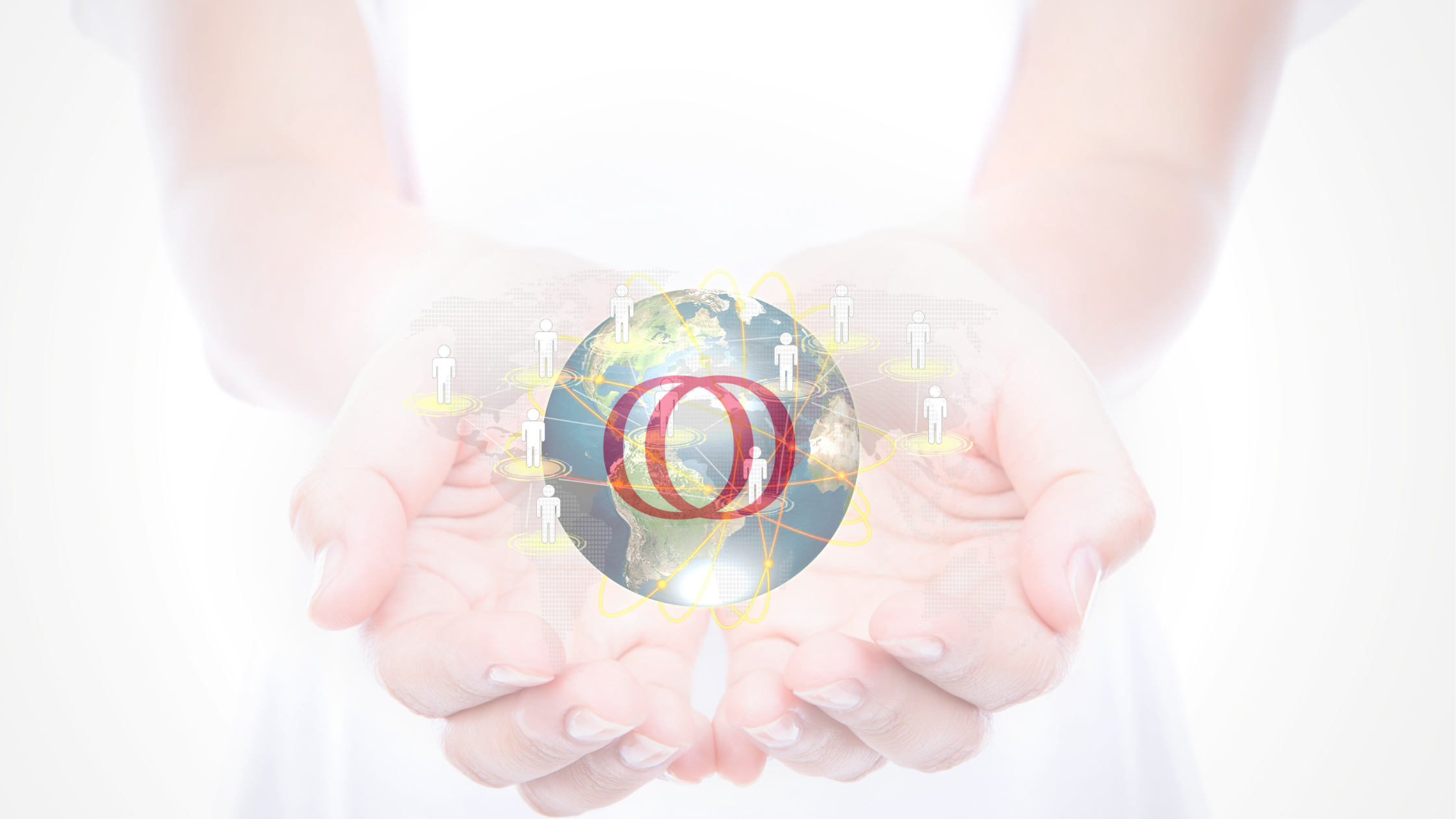 In my fight against breast cancer and to make up for the shortcomings of traditional cosmetics, I had the ambitious project of creating a high-design dermo-cosmetic line, specifically designed for women affected by cancer. What a long way we've come since the creation of Ozalys 3 years ago. What started out as a resilient company has become a formidable corporate project. This September, the back-to-school month, I propose that we take a look back at the DNA and values of Ozalys, a societal brand committed to women around the world.
What is Corporate Social Responsibility?
Definition of CSR
Corporate Social Responsibility (CSR) also known as Corporate Social Responsibility is defined by the European Commission as "the voluntary integration by companies of social and environmental concerns into their business activities and their relations with stakeholders. A company practicing CSR will therefore seek to have a positive impact on society while being economically viable".
All companies, regardless of their size, status or sector of activity, can implement a CSR approach.
Ozalys, more than a brand, a societal project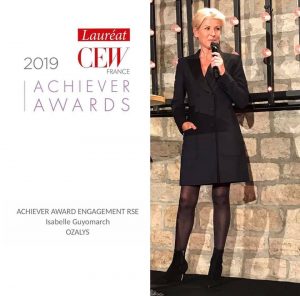 Much more than a brand, Ozalys is a great societal project that has its origins in my fight against the disease (link book Fighting Lady) and is totally committed to supporting women affected by cancer.
Ozalys accompanies them during the illness, but also afterwards to help them get back on their feet and rebuild their lives.
In October 2019, I had the honor of receiving the "CSR Commitment" award from the Achiever Awards jury and the Board of Directors of CEW France, which rewarded my career as a company director and the creation and commitments of the Ozalys brand.
A great pride and a great reward that I dedicate to all the Ozalys teams.
Ozalys' commitment is expressed in its social responsibility:
A social commitment at the heart of the company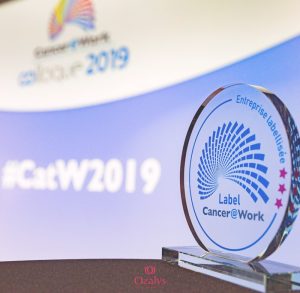 My personal experience and the confrontation between the world of work and illness has changed my perception of CSR. After the ordeal of cancer, I needed to give meaning to something that had no meaning, to create a different model and to place the human being at the heart of my company.
My meeting with Anne-Sophie Tuszinsky, founder of the association [email protected] was decisive in the deployment of my CSR approach.
When one is on sick leave for a long period, the recovery is agonizing, fatigue, rhythm, contact with others… Because it was important for me to integrate the disease into the work environment, the CCI Productions Group signed the [email protected] charter at the end of 2017.
Our workshop-school  was born from this commitment. It's a bubble, a place that allows you to gradually reconnect with the world of work, to reconnect to social life, and therefore to life itself.
In fact, we have obtained the [email protected] label *** at its highest level, for our initiatives
Total support for women affected by cancer
Ozalys' commitment to women affected by cancer is expressed at different levels.
– going beyond the law and forbidding even what is allowed
Because during my fight against the disease, the aggressiveness of the treatments mistreated my physical appearance and led to a multitude of body discomforts that only made me feel worse: hair and nail loss, dryness and redness of the skin, mucositis…
My objective since the beginning of the Ozalys adventure, is that women, in spite of the disease, can benefit, in complete safety, from products adapted with the quality, the requirements and the performance of products of a new but essential kind of luxury. And thus, find their way back to the bathroom with pleasure.
The perseverance, the rigor and the commitment of all my collaborators make it possible today to offer you a complete range of products made specifically for you,  efficient, innovative and without potentially unsuitable ingredients and substances, which I hope will be a source of positive emotions and a source of comfort for you.
– A militant commitment to improving the living conditions of women affected by cancer.
Helping women recover from the ordeal of cancer has become a driving force in my life. After the disease, we have to learn to live with the physical but also psychological after-effects that are linked to it. If life resumes, we must continue to fight on a daily basis to regain a place in a society that stigmatizes us as "former patients" and defend our rights as full citizens: work, maternity, housing loans as well as non-reimbursed treatment?
So that after cancer, women are not reduced to eternal victims, in October 2018 I launched a manifesto which collected more than 34,000 signatures and brought me before the Senate Cancer Commission to raise the voice of women affected by the disease. I would like to thank Senator Catherine Deroche once again for her invitation, commitment and support.
– support for resilience projects
Ozalys' commitment would not be complete without its actions in support of initiatives that work to remove taboos on cancer and help women affected by the disease to rebuild their lives, accompanying them in their work of resilience. It's always a pleasure and an honor for me to support the projects of fighting sisters: Elirose forever , 3 women to bounce back … Moreover, in a few days we will have the pleasure to welcome the awarding of the prize for the call for projects "daring resilience" launched by Séverine, during the K Fighteuses trade fair.
A brand committed to public health
In the context of the health crisis, OZALYS wished more than ever to give meaning to its societal commitment, to support the most vulnerable and health professionals, by actively participating in the French production of hydro-alcoholic solutions.
Our Protective Care, with a formula recommended by the WHO, is now a Biocide product, registered for antisepsis and surgical hand disinfection. By banning phthalates from our formulation charter and by systematically dosing plasticizers on products and packaging, Ozalys laboratory innovates for public health.
Ozalys, an innovative brand at the service of environmental responsibility
Cancer and the environment
The links between the environment and the appearance of certain cancers are the subject of much research. While some of them have been proven (air pollution, UV exposure, etc.), other environmental factors are still under investigation.
The notion of environment is complex because it can be defined in many ways.
In France, the National Agency for Food, Environmental and Occupational Health and Safety  defines the environment as "all exposure to physical, biological and/or chemical agents present in living and working environments". The WHO also adds to this definition individual behaviors, such as smoking, alcohol consumption or unbalanced diet.
Many causes, often multiple, can influence the risk of cancer. Although it is difficult to act on certain risk factors (gender, genetic heritage, etc.), it is possible to protect against certain environmental risks, and this is where the Ozalys laboratory innovates and is committed.
A unique formulation charter
Taking care of skin sensitized by anti-cancer treatments means above all, benefiting from high quality products specifically designed for it. It is in this spirit that the OZALYS Laboratory's R&D teams have worked to provide women affected by the disease with products that protect, moisturize, soothe and cleanse gently and safely.
OZALYS products are the result of three years of research and innovation: innovation of concept, formulation and packaging.
Linda Berkani, Research and Development Director OZALYS :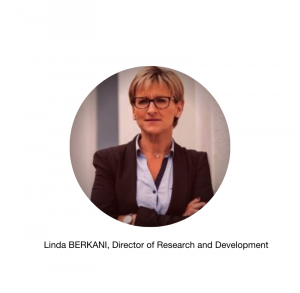 "From the formulations of the products, to the high-quality active ingredients, to the unique black list of ingredients from a regulatory and toxicological point of view, as well as the French and patented packaging allowing a low use of preservatives, the Ozalys range is a true technological and industrial feat that takes into account the hormone-sensitive nature of most breast cancers."
Indeed, Ozalys Laboratory is careful not to introduce into its formulas any chemical or natural ingredient known to behave like a hormone, these famous endocrine disruptors which are likely to thwart or mimic the functioning of our hormonal system.
As a societal brand, OZALYS must also protect beauticians and socio-aestheticians who take care of women affected by cancer.
By launching our professional range in April 2019, we are the first brand in France to evaluate the toxicity and guarantee the tolerance of its products on female practitioners to ensure professional exposure in complete serenity: choice of ingredients that are gentle to the skin, taking into account the repetition of daily care, and calculation of occupational exposure to each product.
A special attention to packaging

Endocrine disruptors may be present in some cosmetic products, but also in their packaging.
In order to protect your health, we use patented, light, reliable and eco-responsible packaging made in France that protects the formulas and avoids migration of plasticizers.
Migration is a possible interaction between a product and its packaging. During its lifetime, a product can interact in different ways with its packaging, and with its environment. Migration is characterized by a transfer of material from the packaging to the product, which can have a potential influence on the quality and safety of the product.
The AirlessⓇ technology that we use in our packaging ensures that our products are protected from manufacture to application.
Our Twisto capsule (cap) allows you to apply your skincare product via its dispensing tray and prevents pollution of the cream thanks to its non-return valve. It also allows an easy opening that preserves your hands and nails that have been weakened by the treatments.
TO CONCLUDE
In 3 years, Ozalys has become a global brand committed to women affected by cancer, which has received recognition from scientists  and professionals for its commitment and expertise.
Today, cancer is a worldwide "epidemic". To get through and overcome this ordeal there are no small contributions, every initiative counts.
This is why I wanted, through the OZALYS brand, to be present alongside women affected by cancer. I am happy and proud, thanks to an innovative approach and a lot of perseverance, to make my contribution to the great edifice of cancer and to act, at my level, for the daily life, the future and the safety of patients.
Because life is precious, because you are precious.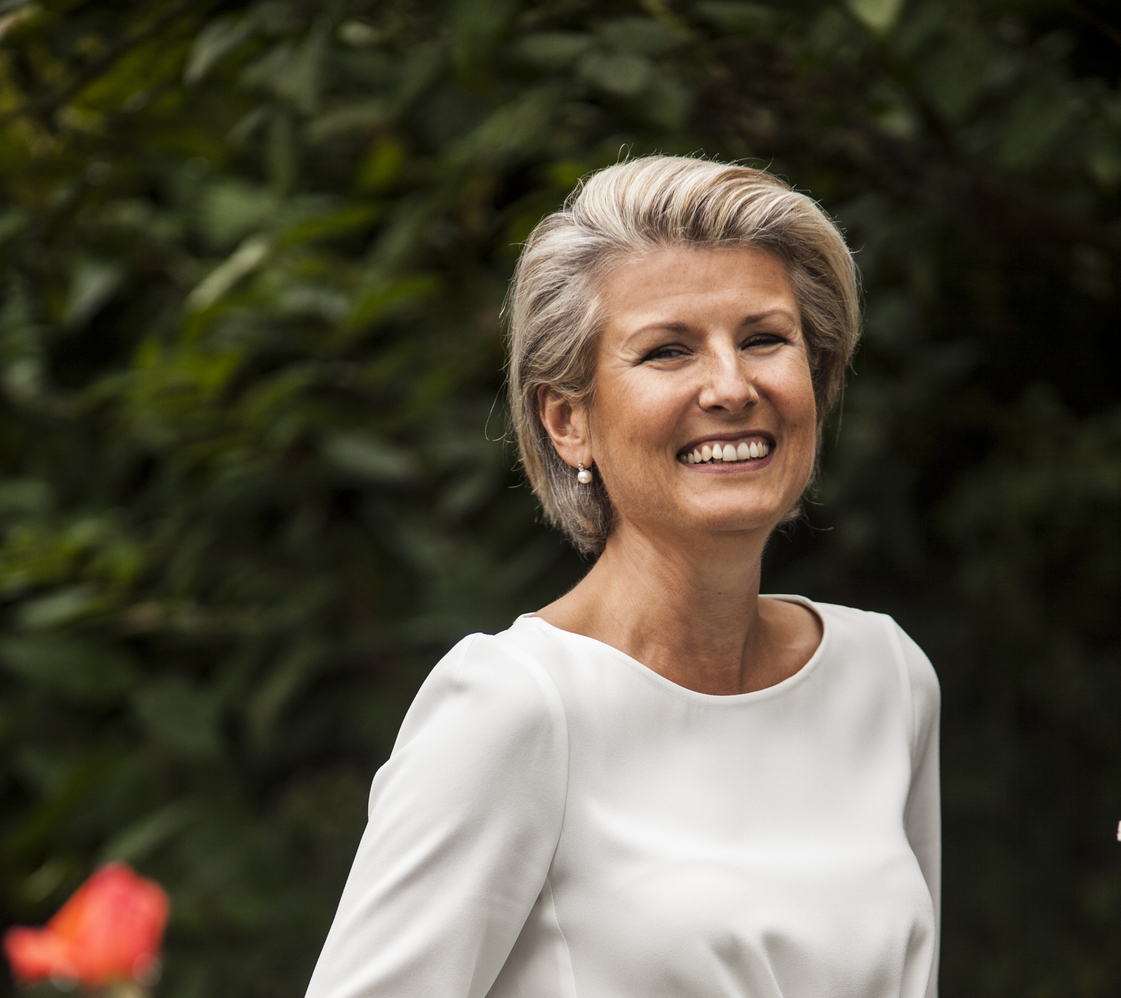 Isabelle Guyomarch
Isabelle Guyomarch a passionate and seasoned professional in the pharmaceutical and cosmetic worlds when she was diagnosed with breast cancer in 2013. In 2017, she created Ozalys, a brand of Dermo-cosmetics created by women for women affected by cancer.